Posted by fAB on September 28th, 2012 - 01:50 pm EDT
Like the title says, now you can see the Sturmbots in the Model Gallery! I've included three of them to show a little variety between their gear and expressions.
Posted by Blyka on September 26th, 2012 - 01:03 pm EDT
TLT's talented music composers have been busy cooking up more pieces of what's turning out to be quite an epic soundtrack. We don't plan on releasing every new track on the site as it's made, but we've added a couple of the latest to the Music Tracks page for your listening pleasure!

From Mr. Foetus we have Air Pirates Advance, to be used in the pre-title cut scene (rough idea shown in the beginning of this video). He took what I always considered a fairly dull track and packed in some serious awesome, making for an epic track filled with atmosphere.

From Karimn D.K.I. we have Someplace Classy, to be used for localities like the museum, library and so on. This is a brilliant new arrangement of an old classic that he nailed for us on his first take- see if you can recognize it!

On a side note, Mr. Foetus was also kind enough to send in a great article on his music process like Karimn's recent post, which we'll be putting up in the near future.

Anyway, I hope you enjoy these new tracks and look forward to more from these guys; I know I am.
Posted by Blyka on September 21st, 2012 - 11:53 am EDT
Some time ago we got a comment expressing interest in a post on the music making process of TLT's composers. It slipped through without a response (sorry!), but we did of course see it and agreed it was a great idea for the Development Blog. Of course, such an article is subject to the time and interest of the individual composer, so I'm pleased to say that Karimn D.K.I. has obliged us with an article on his process- thanks, Karimn!

Read more to see what he has to say!
Read Full Post
Posted by fAB on September 18th, 2012 - 06:05 pm EDT
As you should already know, our 3rd Event came and went and a winner--the new Servbot equivalent--was chosen after careful consideration. During Legends 3's development, I wasn't always happy with Capcom's decisions, so even though Blyka and I felt confident we'd picked a great design I couldn't help but be apprehensive about making the announcement. Fortunately the response from around the community has been a very positive one. I want to say congratulations and thanks again to Eris for the great design!

Even before officially deciding on Eris's entry, we began the process of refining the design a bit. I'm going to outline our changes and our reasons behind them, but to start off let's just get the before and after versions out, shall we?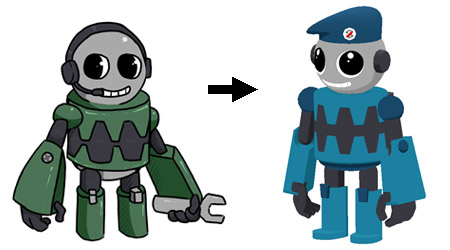 Read Full Post
Posted by fAB on September 7th, 2012 - 07:42 pm EDT
Our third Event got a pretty decent turnout with 26 entries submitted by 17 participants. We'd like to thank you all for taking part and making it a success! As Blyka and I got together to review all the different designs, it quickly became apparent that it was going to be a difficult task choosing a winner. Sometimes there are designs that just instantly feel right, but in this case we intentionally left the criteria somewhat vague as to what a Sturmbot should be. As a result we got some great variety with a lot of people thinking hard about finding the balance between being a minion of a feared pirate force and being cute enough to appeal to players.
Read Full Post