Posted by fAB on May 26th, 2013 - 09:08 pm EDT
Things are still moving along slower than we'd like, but a little progress here and there eventually adds up, and today I'm happy to finally present our fully textured mechanic!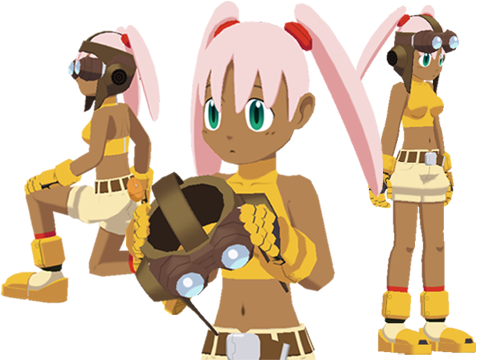 I'd like to put her into the Model Gallery for everyone to get a better look at her, but we can't just yet because she still lacks a name! As most of you know, we asked for name ideas earlier this month and got a nice lot of replies. Thanks, everyone! As promised, Blyka and I have gone through and considered each option carefully and at last we're ready to let the community choose from our top picks!
Read Full Post
Posted by fAB on May 5th, 2013 - 09:30 pm EDT
What Legends game would be complete without a skilled mechanic to create awesome weapons from otherwise useless junk, and then bleed you dry with upgrades? In the world covered by endless water it falls upon the shoulders of girls in their early teens to fill the role of mechanical genius, and it's about time we introduced TLT's!
Read Full Post
Posted by Blyka on May 5th, 2013 - 07:33 pm EDT
Happy anniversary! Hard to believe it's already been a year since this site launched and public development began on Tuttle's Legendary Travels. Though the past few months have been a bit slow we feel it's been a pretty exciting and successful first year for the project- and it's certainly been loads of fun. Here's hoping TLT's second year will turn out even better than its first!

Not only was the project officially launched a year ago today, but we also revealed that Sensei Haruki Suetsugu's heroine design from MML3's development would be a major player in Tuttle's Legendary Travels. Despite the popularity of this decision we still have yet to reveal anything about who she is or what she does in the game, so in honor of TLT's first anniversary we decided it was high time to do so. Read on to learn more about this important character!
Read Full Post