Posted by fAB on May 25th, 2012 - 03:32 pm EDT
TLT's first community participation Event is here, and it's a chance to leave your mark on the game in a pretty big way! Before jumping into what you have to do to take part, let's learn a little about what this Event focuses around, the game's islands.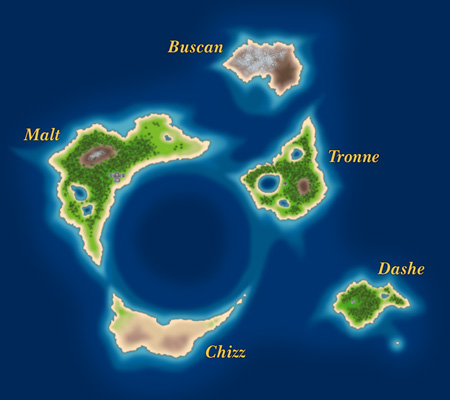 Read Full Post
Posted by fAB on May 19th, 2012 - 09:21 pm EDT
I don't think Amistal qualifies as a fan favorite, but we decided to include it in TLT given it's history with Tuttle. For those who don't know, it was featured in Tuttle's Little 5-Island Adventure (where some even referred to it as the boss). Anyhow, I've finished the model and textures for both the small and large units. Have a look.
Read Full Post
Posted by Blyka on May 10th, 2012 - 02:12 pm EDT
While fAB is producing awesome model work, some may be wondering what I'm doing for TLT if the programming hasn't started yet. So, I figured I should blog about another aspect of the project that I've been working on: the "Game Design Document"

The GDD covers every aspect of the game in great detail, from the full story to the names of items. This is something I haven't focused on too much in my past projects, as Classic-series Mega Man fangames are naturally small-scale in the sense that they're side-scrolling shooters; not grand RPG-style games like the Legends series.
So for a game this large and epic I feel having a comprehensive GDD before starting the actual programming is very important, for both keeping track of what exactly needs to be done and for avoiding nasty surprises mid-development.

That said, I think this would be a good time to throw out a few tidbits about the game. Nothing ground-breaking or spoilerific this early in development; just some simple facts that fAB and I have confirmed through the GDD:
Read Full Post
Posted by fAB on May 9th, 2012 - 01:38 pm EDT
So I finally finished the Zephyr model! This little air ship will be seen throughout the game, used by the pirates for scouting and short range transport. Though not armed by default, the Zephyr can be outfitted with weaponry and other attachments if desired. The underside hatch also works well for dropping bombs while in flight.

Surprisingly, this little ship has a fair bit of history behind it. Many years back I began work on a Legends Choose-Your-Own-Adventure story, and included character profiles complete with pictures. For one of the characters, a pirate girl, I whipped up a quick background that had dark silhouettes of little ships with search lights. That was the earliest concept image for the Zephyr.
Read Full Post
Posted by fAB on May 5th, 2012 - 12:05 pm EDT
Greetings visitors! Unless you happen to be digging through the archives, you're among the first to see this place after its launch, and I want to thank you for coming!

Blyka and I had hoped this day would come sooner. As some of you may know, the first public mention of Tuttle's Legendary Travels was back on the first of the year. At that time we had too many ongoing issues in our lives to think about actively jumping into this project full speed. Sadly, many of those issues persist even now and will continue to do so for the foreseeable future. With that in mind, we decided that if we didn't launch the project now then there's no telling when we might get around to it. So here we are, the first big step on the road to TLT!
Read Full Post